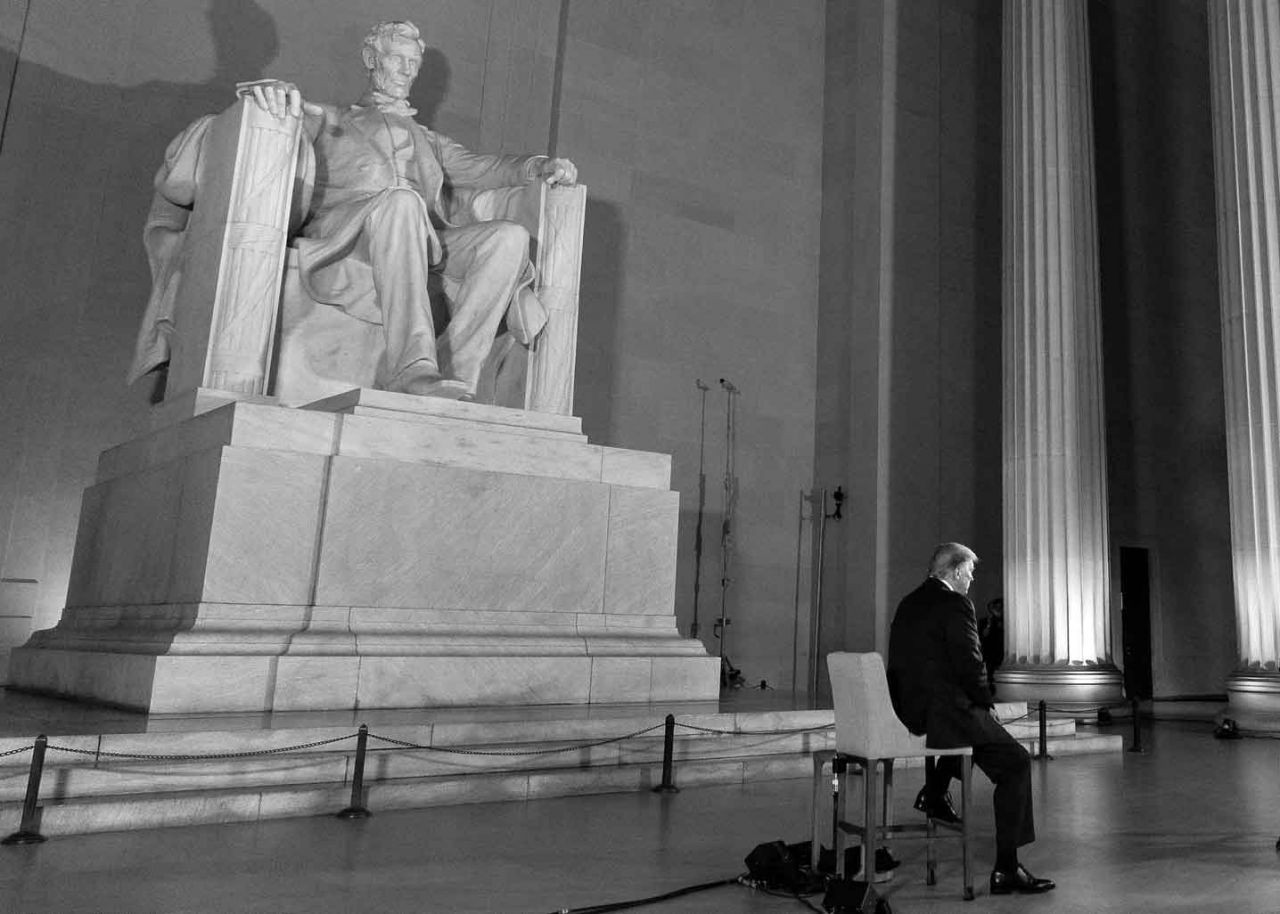 President Trump proclaimed today, September 26, 2020 as a National Day of Prayer and Return:
Our great Nation was founded by men and women of deep and abiding faith—a faith that has stood the test of time. Four hundred years ago, early American settlers trusted their lives to His providence and braved a voyage to a New World. From the pilgrims who sought His protection aboard the Mayflower to the countless believers who today bow their heads to ask for His guidance during these unprecedented times, our country continues to turn to the Lord. Following in our ancestors' footsteps we continue the "firm reliance on the protection of Divine Providence" that provides us enduring strength and reassurance in our times of need.

Donald Trump, proclaiming a National Day of Prayer and Return
Trump's National Day of Prayer and Return, though new in name, is similar in concept to Abraham Lincoln's National Day of Prayer in Humiliation
Every year at Thanksgiving I like to read Lincoln's Proclamation of Thanksgiving as a reminder of the day's original intent. I often read it with Lincoln's Proclamation for a National Day of Prayer and Humiliation, because I think it's important to consider those proclamations in context of the events of the preceding months, and Lincolns prior proclamations.

Lincolns first Thanksgiving proclamation was actually made in 1862, two months after his son had died of fever, and just three days after the battle at Shiloh. By all accounts, General Grant and the Union forces had been surprised and defeated at Shiloh, yet the President's proclamation was one of Thanksgiving for "Victory in Battle." The Proclamation - which was the first since James Madison proclaimed a day of Thanksgiving after the victory over England in 1815 - seemed more ceremonial than heartfelt, and perhaps it was Lincoln's attempt to put a positive spin on the war. While the proclamation put on a good face for the public, in private Lincoln was frustrated, and nearly relieved Grant of command. The President decided against it, concluding, "I can't spare this man; he fights."
By early 1863 the war was going very poorly for the Union troops, and Lincolns public approval was sinking. On March 30th, he proclaimed April 30th, a National Day of Prayer and Humiliation. This time, the President's tone was humbled, and flowed from the heart:
We have been preserved, these many years, in peace and prosperity. We have grown in numbers, wealth and power, as no other nation has ever grown. But we have forgotten God. We have forgotten the gracious hand which preserved us in peace, and multiplied and enriched and strengthened us; and we have vainly imagined, in the deceitfulness of our hearts, that all these blessings were produced by some superior wisdom and virtue of our own. Intoxicated with unbroken success, we have become too self-sufficient to feel the necessity of redeeming and preserving grace, too proud to pray to the God that made us.

Abraham Lincoln, proclaiming a National Day of Prayer and Humiliation
This was not Lincolns first proclamation for a national day of fasting. In September of 1861, the President had proclaimed a day of fasting (The first since 1812) for peace and unity. At the beginning of the Civil War, the Union's stance was that the conflict was to "Preserve the Union" not free slaves. This was a political move by Lincoln to keep pro-slavery border states such as Delaware, Kentucky, Maryland, and Missouri from seceding, and later to split Virginia and allow West Virginia to enter the Union as the 35th state. While slavery was prohibited in the rest of the country, it was tolerated in the five border states to ensure that men and resources stayed in the North. The fear of political repercussions were so strong, that in 1861, Lincoln relieved General John C. Fremont of command after Fremont issued an unauthorized military proclamation of emancipation in Missouri.
An interesting shift in ideology occurred toward the end of 1862. Lincoln's war to "Preserve the Union" began to transform into a moral war to abolish slavery. On January 1, 1863 President Lincoln issued the Emancipation Proclamation which granted freedom to all the slaves in the South, on March 30th he proclaimed the day of prayer and humiliation, on April 30th the Nation prayed, and May 1st - 4th the Nation fought and lost at Chancellorsville. But one thing happened during that battle at Chancellorsville that changed the course of the war. General Thomas 'Stonewall' Jackson - a military genius who was responsible for much of the Confederate success - was caught in friendly fire as he returned from a scouting mission in the dark of the night. On May 10th, General Jackson died from his wounds, and upon hearing of his death, General Robert E. Lee remarked, "I have lost my right arm."
Then came Gettysburg. From July 1st - 3rd the Union and Confederate forces engaged each other. It was a huge victory for the North, but altogether 50,000 Americans died during those three days of fighting. On July 4th the confederate forces at Vicksburg surrendered, and the Army of the South was split in two. On July 15th, Lincoln issued his second proclamation of thanksgiving for victory in battle.
It has pleased Almighty God to hearken to the supplications and prayers of an afflicted people . . . But these victories have been accorded not without sacrifices of life, limb, health, and liberty, incurred by brave, loyal, and patriotic citizens. Domestic affliction in every part of the country follows in the train of these fearful bereavements. It is meet and right to recognize and confess the presence of the Almighty Father and the power of His hand equally in these triumphs and in these sorrows:

Abraham Lincoln, proclaiming a National Day of Thanksgiving for Victory in Battle
On October 3, 1863, Lincoln proclaimed the first in an unbroken line of annual Presidential proclamations for a National Day of Thanksgiving. Choosing the last Thursday of November, the date was set for the 26th. On the 23rd, General Grant began an attempt to break the Confederates siege of Chattanooga, and it culminated in an attack on Missionary Ridge on the 25th; the day before Thanksgiving. General Grant believed that the confederates position on Missionary Ridge was "impregnable," and as such, was shocked when Union troops charged up the hill without orders, and swept back the armies of the South. When Grant asked how the charge started, no one in the Army knew.
No human counsel hath devised nor hath any mortal hand worked out these great things. They are the gracious gifts of the Most High God, who, while dealing with us in anger for our sins, hath nevertheless remembered mercy . . . I do therefore invite my fellow-citizens . . . to set apart and observe the last Thursday of November next as a day of thanksgiving and praise to our beneficent Father who dwelleth in the heavens.

Abraham Lincoln, proclaiming a National Day of Thanksgiving
Our states, though divided in many ways in 2020, are not warring with themselves as in 1860s. Yet the tension is high.
In his proclamation, Trump notes,
"
The trials and tribulations the American people have faced over the past several months have been great. Yet, as we have seen time and again, the resolve of our citizenry—fortified by our faith in God—has guided us through these hardships and helped to unite us as one Nation under God." But how much
impact
will a proclamation to pray and return have
if we as a people are not committed to it
?
Will this proclamation, which seeks unity like Lincoln's 1861 Proclamation for a National Day of Fasting, be received with sincerity, or will we as a nation, as in Lincoln's time, require more years of division and turmoil, before we truly seek healing?
As we continue to combat the challenges ahead of us, we must remember the sage words of President George Washington during his first Presidential Address: "propitious smiles of heaven can never be expected on a nation that disregards the eternal rules of order and right, which Heaven itself has ordained." As a country and a people, let us renew our commitment to these abiding and timeless principles.

Donald Trump, proclaiming a National Day of Prayer and Return